Hair Snoods with Lace Bun Covers
SNOODS FROM JAZPIZAZ INCLUDE A BARETTE CLIP WITH A LACE BUN COVER HOLDER THAT ALLOWS YOU TO KEEP HAIR UP AND NEAT WHILE DISPLAYING YOUR HAIR BUN IN A FASHIONABLE WAY.
Introducing our Jaz HairJewels collection of beautiful Satin with Velvet Hair Bun Cover Snoods. Accented with Rhinestones and a Satin Ribbon Hair Snood these elegant hairpieces are available in Stripe Satin Bows or Solid Satin Ruched Bows.


Children's Mini Pastel Bow Hair Snoods
CHILDREN'S MINI HAIR BUN SNOODS IN CUTE ADORABLE PASTEL COLORS. EACH MINI HAIR SNOOD HAS AN ACCENT BOW WITH COLORS AND RIBBON, PRICED SO YOU CAN COMBINE COLORS AND ORDER MULTIPLES FOR YOUR LITTLE GIRL

A GOLDEN CUTIE - MINI CHILDRENS SNOODS in PASTEL COLORS
ADORABLE AND CUTE THESE CHILDREN'S MINI SNOODS WITH WHITE HAIR NETS HAVE A GOLD BEADED RIBBON ACCENT AND AVAILABLE IN BEAUTIFUL PASTEL COLORS

CHILDRENS PASTEL MINI SNOOD PACKAGE with GOLD BEAD ACCENT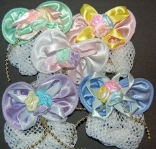 Click to enlarge image(s)
WOW!

Children's mini snoods in five beautiful Pastel Colors! All accented with a Gold Bead Ribbon this collection of Hair Snoods will make every little girl feel special. Perfect for little dancers and ballerinas.
YOU WILL RECEIVE (5) FIVE HAIR SNOODS WITH EVERY ORDER AT THIS INCREDIBLE PRICE.
| | |
| --- | --- |
| Pastel Hair Bow Snood Measurements | 2 1/2" x 3" Bow |
| | |
| --- | --- |
| Each pastel mini snood includes a white hair bun net. | Keeps Little Girls Hair Pretty and Neat |
| Includes a 1 /3/4" French Clip | Securely fastens to your childs hair |